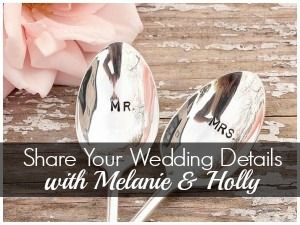 I'm linking up with Holly and Mel today. Who doesn't love to talk about their own wedding? I love me some weddings, so I'll be reading every one's stories.
Cody and I got engaged after 7 months. We literally had family asking after the first month when we were going to get married. My grandma said "You better marry that boy. If you don't, I will." Awesome, grandma.
Here's all the lovely details:
I wanted to get married in Vegas and he said I'd regret "not having a real wedding." I told him to hire a wedding planner because I wasn't planning it. I was told several times, I was the most relaxed bride ever. Even when there were tornado warnings and my drunk groom hadn't made it back to his parents house the night before the wedding, I was calm. I didn't really care too much about the way things looked. I could've walked down the aisle in a potato sack. I just wanted to marry that boy.
Date: April 24
Location: Barron's on 5th. The wedding was outside on the front steps and the reception was an indoor/outdoor dance with about 250 of our favorite people boozing it up and dancing to Kimberly Kelly.
Bridal Party: We had 8 bridesmaids and 8 groomsmen, 3 ushers, 2 ring bearer's, and 1 flower girl.
Honeymoon: A week in Lake Tahoe. I wanted the beach. He wanted the mountains. We compromised and got the beach and the mountains. Although, I need a do-over because it was still freezing in May! It was gorgeous though. Lake Tahoe is one of our most favorite places in the world.
What Would I Change: Absolutely nothing. I'm not planning that shit.